Starting April 27, 2021 the PDC's Online Reporting of Campaign Activity (ORCA) software will take on a new look and operation, in preparation for the eventual transition to a fully online web application.
What this means for users:
ORCA will have a new landing page and campaign reporting page. Functionality won't change but users should have an easier time knowing when a campaign is open and finding what they need.
ORCA will require a sign in to Secure Access Washington (SAW), the same login used for campaign registration now.
Using ORCA will require continuous internet connectivity. The system will no longer function as a stand-alone piece of software, where connection is only needed for report submission.
You can watch this video that highlights some of the changes. Or keep reading for more details:
If you are a current user of ORCA, you will see a message when you open the program on or after April 27. The system will ask you to update to the latest version of ORCA. The update is necessary to continue using the software.
Image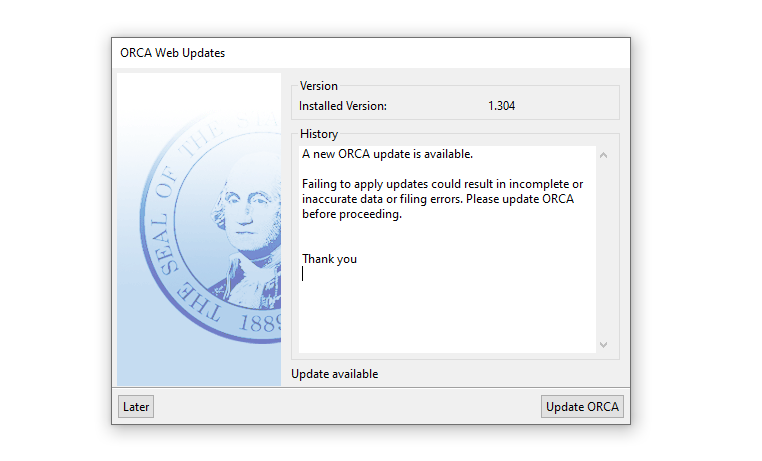 Once your system is updated, you will be prompted to sign into the SAW system, which allows users to securely file data with many Washington state agencies.
You may already have a SAW account if you've registered a candidacy or committee with the PDC or logged in to get a token to sync your ORCA campaign with that registration. (If you don't have a SAW account, you can create one ahead of time here.)
Using SAW to access ORCA allows users to skip the step of generating an access token and adding to the ORCA file.
Image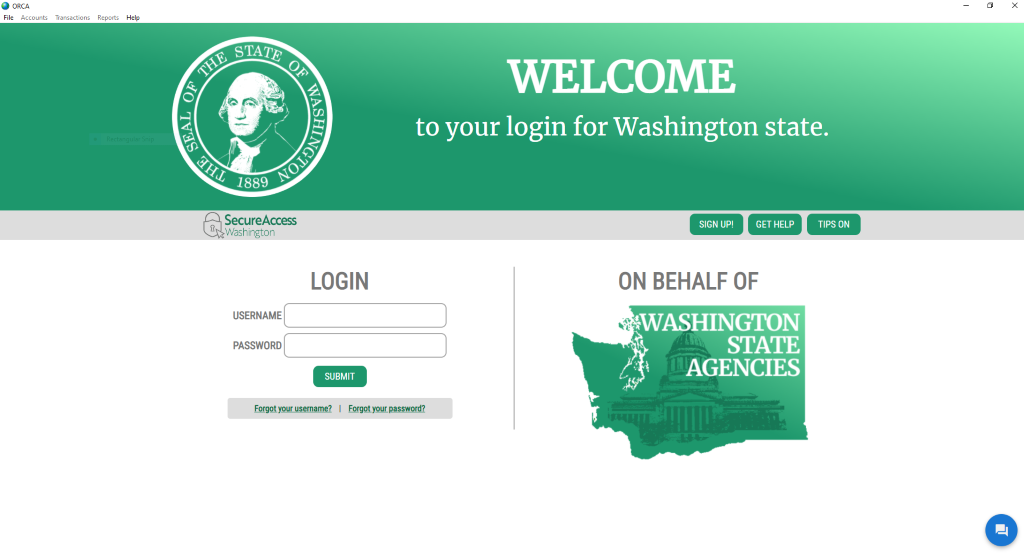 ORCA's new landing page also will look different, but retain familiar functions that allow you to enter transactions the way you always have.
Image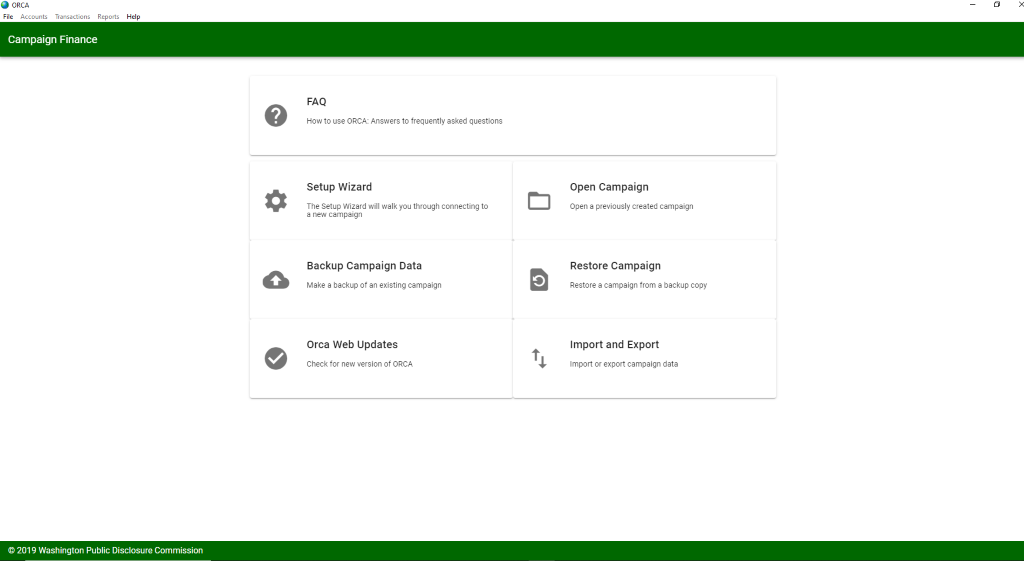 You'll click the Setup Wizard icon to establish a new campaign.
Image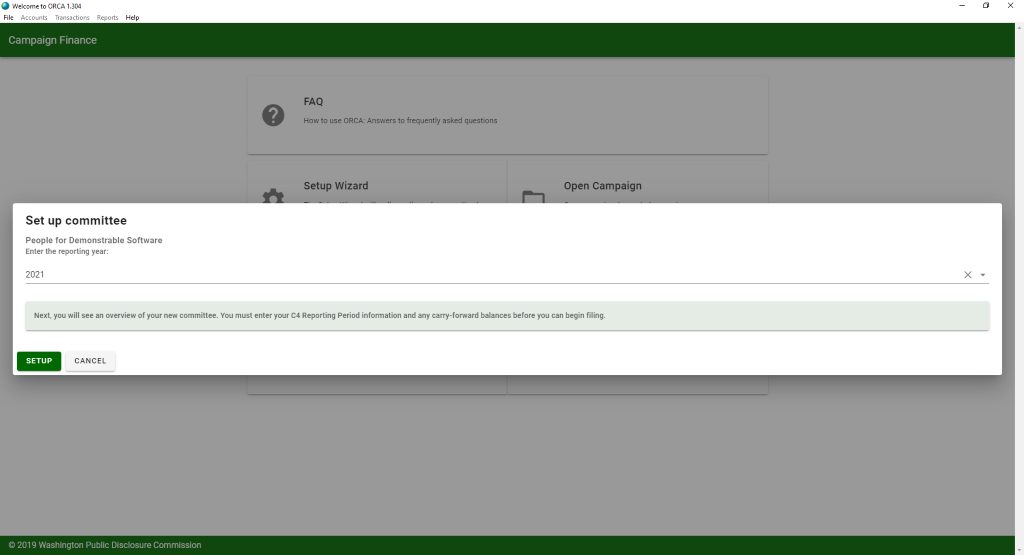 Or click Open Campaign to find one you've already established.
Image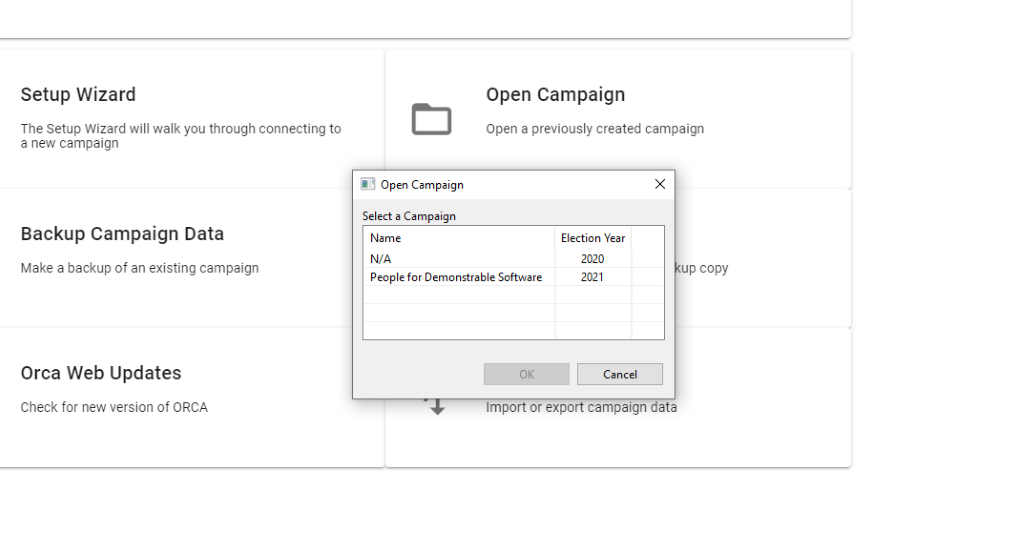 Changes to ORCA will require continuous internet connectivity. ORCA will no longer function as a stand-alone piece of software, where connection is only needed for submission. If you lose connectivity, the system will let you know.
Image

Free temporary internet access is available at spots around the state during the Covid-19 emergency. This link can help you find free internet access where you live.
Throughout the coming year, more ORCA features will take on this new look, along with new functionality. This incremental approach to replacing ORCA will allow users to learn each new function as it is released rather than face the steep learning curve presented by replacing the product all at once.
By mid-2022, all your ORCA data will be saved to the cloud. That means you'll no longer need to save a backup copy of your data or pass the backup from user to user to file a report.
Ultimately, the goal is to make ORCA more user friendly, but still familiar.
If you're interested in participating in future focus groups or usability testing for the ORCA app, contact us at pdc@pdc.wa.gov